Auto
2023 Lexus LC500H Luxury Coupe Breaks Cover, Price Starts at Rs 2.39 Crore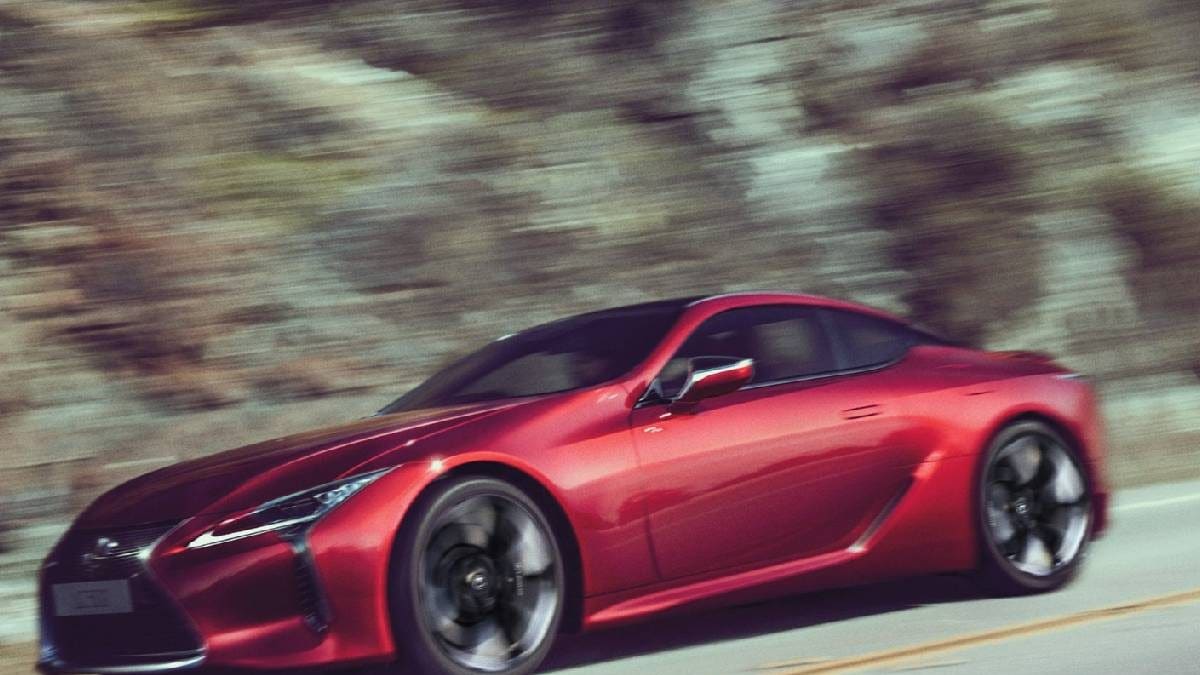 2023 Lexus LC500H Luxury Coupe (Photo: Lexus)
The latest Lexus LC 500h comes with distinct enhancements that further enhance its lifestyle quotient, offering a seamless blend of usability and comfort
Lexus, the renowned luxury automobile manufacturer, has unveiled its latest offering to the Indian market, the highly anticipated 2023 Lexus LC500H Luxury Coupe. With its striking design and impressive features, this luxury coupe aims to redefine the driving experience for discerning customers. Priced at Rs 2.39 crore (ex-showroom), the LC500H is set to captivate luxury car enthusiasts with its exceptional performance and lavish amenities.
Highlighting the bold and premium upgrades in the flagship Lexus LC 500h:
Redesigned Instrument Panel: The vehicle now features a 12.3-inch-wide touch-screen display (21CY multimedia), positioned 86 mm further towards the rear of the car for natural touchscreen operation.
Enhanced Centre Console Switch Layout: The switches have been thoughtfully arranged in a longitudinal layout, ensuring improved usability.
Passenger Side Instrument Panel Ornamentation: The ornamentation panel on the passenger side is now unified with the instrument panel upholstery, emphasizing the car's horizontal design theme.
Sleek Grill Holding: The new LC 500h sports a more compact grill shape that integrates the camera cover seamlessly.
All-New Alloy Wheel Design: The car boasts stunning super gloss black metallic alloy wheels with a 3D machined finish.
In a move to take luxury to the next level, Lexus has partnered with renowned minimalism experts, Abraham & Thakore, to introduce limited-edition jackets featuring custom designs inspired by Lexus. Named Lexus Life, the Abraham & Thakore capsule collection perfectly aligns with the design philosophy of the new LC, symbolizing the luxury of craftsmanship, sustainable design, and the beauty of handmade creations. This collection reflects Lexus' Omotenashi principles of luxury and fulfilling guest needs.
Also Read: Lexus TX SUV's Design Element Revealed In Teaser, Global Debut Soon
Mr. Naveen Soni, President of Lexus India, expressed his enthusiasm for the collaboration and the latest offering, stating, "As a conscious lifestyle luxury brand, we are always open to working with like-minded brands and individuals who believe in crafting amazing experiences for a better tomorrow. We are proud to partner with Abraham & Thakore, who bring their own creative aesthetic to reflect contemporary yet non-conforming fashion and sustainability, which is synonymous with both brands. This collection, like all our specially crafted limited-edition products, embodies true luxury in terms of quality and exclusivity."
Under the hood, the LC500H packs a powerful punch. It is powered by a hybrid powertrain that combines a 3.5-liter V6 engine with an electric motor, delivering a total output of 354 horsepower. The coupe effortlessly accelerates from 0 to 100 km/h in just 4.7 seconds, providing exhilarating performance on the open road. The LC500H also features advanced technologies, such as Lexus' advanced hybrid system, ensuring impressive fuel efficiency without compromising on power.
The transition to the new model of LC 500h perfectly aligns with Lexus' commitment to designing products that offer unrivaled comfort and superior performance, catering to the preferences of its discerning guests. With its innovative technology and design upgrades, the new enhanced LC is sure to captivate the imagination of luxury consumers.
Lexus plans to expand its luxury lifestyle merchandise collection in the future. For more information on the Lexus Life by Abraham & Thakore collection, please visit your nearest Lexus Guest Experience Centre.