Sports
Asia Cup 2023: Nepal team delighted to get a chance to talk to Virat Kohli and Rohit Sharma | Cricket News – Times of India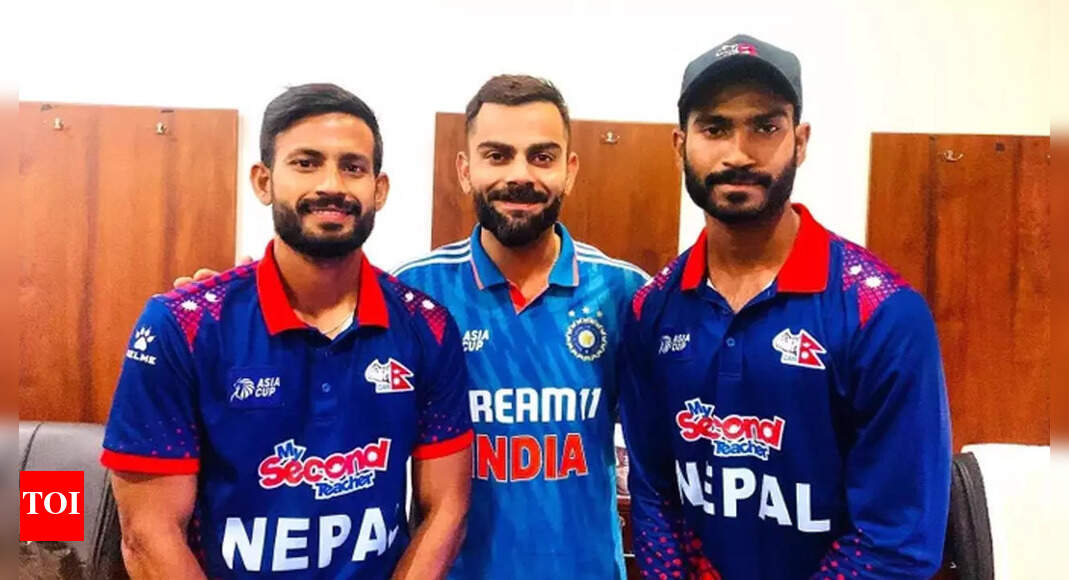 Following the conclusion of their Asia Cup 2023 campaign with a defeat against India in Pallekele on Monday, Nepal skipper Rohit Paudel revealed that his team was delighted to get a chance to engage in a conversation with India captain Rohit Sharma and batting icon Virat Kohli.
In a rain-shortened contest, India secured a commanding 10-wicket victory (DLS method), propelled by a batting exhibition from openers Shubman Gill (67 not out) and Rohit Sharma (74 not out).
After Nepal put up a respectable 230 on the board, rain delay revised India's target to 145, which Rohit and Gill achieved with ease.
Speaking at the post-match press conference, Nepal skipper Paudel said, "We talked wigth Rohit and Virat, and they gave (shared) lots of experience with us. This will be very useful for us."
In fact, Kohli also gave Nepal pacer Sompal Kami an autograph on his shoes.
Paudel, however, rued falling short by 30-40 runs after they had a good start, thanks to three dropped catches by India.
"Overall I am happy with the performance of the boys, especially with the bat. I think the openers did a very good job. In the middle order, we could have done better. I thought somewhere around 260-270 would have been a good score. If you talk overall, I am happy with the performance."
Paudel expressed his disappointment that his bowlers didn't get a chance to bowl at Kohli.
"We did not get the opportunity to ball against Virat as both the openers (Rohit and Gill) batted till last."
Paudel said the two big games against India and Pakistan presented different challenges, mainly because of the weather conditions.
"It mostly depends upon the conditions. When we played against Pakistan, I thought it was most favourable for the medium pacers and we took that opportunity. Today's conditions (against India) were more challenging because of the dew as the ball was not gripping. But credit goes to Shubman and Rohit bhai, the way they batted."
(Wtih agency inputs)
function loadGtagEvents(isGoogleCampaignActive) { if (!isGoogleCampaignActive) { return; } var id = document.getElementById('toi-plus-google-campaign'); if (id) { return; } (function(f, b, e, v, n, t, s) { t = b.createElement(e); t.async = !0; t.defer = !0; t.src = v; t.id = 'toi-plus-google-campaign'; s = b.getElementsByTagName(e)[0]; s.parentNode.insertBefore(t, s); })(f, b, e, ' n, t, s); };
window.TimesApps = window.TimesApps || {}; var TimesApps = window.TimesApps; TimesApps.toiPlusEvents = function(config) { var isConfigAvailable = "toiplus_site_settings" in f && "isFBCampaignActive" in f.toiplus_site_settings && "isGoogleCampaignActive" in f.toiplus_site_settings; var isPrimeUser = window.isPrime; if (isConfigAvailable && !isPrimeUser) { loadGtagEvents(f.toiplus_site_settings.isGoogleCampaignActive); loadFBEvents(f.toiplus_site_settings.isFBCampaignActive); } else { var JarvisUrl=" window.getFromClient(JarvisUrl, function(config){ if (config) { loadGtagEvents(config?.isGoogleCampaignActive); loadFBEvents(config?.isFBCampaignActive); } }) } }; })( window, document, 'script', );



Source link