Trending
Congress distances itself from Sachin Pilot's yatra against corruption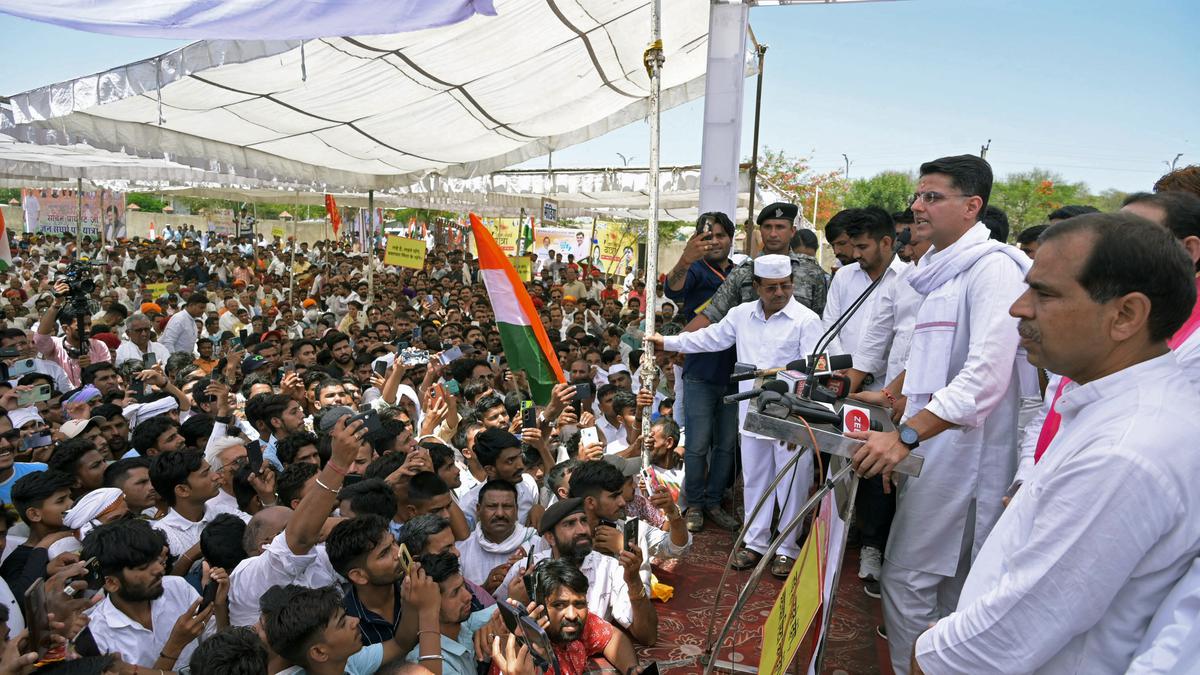 Reiterating his demand for strong action against corruption and examination paper leaks, Congress leader and former Deputy Chief Minister Sachin Pilot on Thursday embarked on a five-day-long Jan Sangharsh Yatra from Ajmer. Thousands of Congress party workers followed Mr. Pilot in his march on foot to Jaipur in the scorching heat, while MLAs loyal to him were kept away from the yatra.
Addressing a huge public gathering at the start of the yatra, Mr. Pilot — who was sacked as the Deputy CM and Rajasthan Pradesh Congress president after his rebellion in 2020 — said it was a journey to raise his voice, hear the people's voice and "become the voice of the people". He said that his demand, for a probe into corruption and scandals which took place during the previous BJP regime, had elicited no response.
No party symbol
The ruling Congress in the State distanced itself from the yatra, saying that it was Mr. Pilot's "personal march" and the party had nothing to do with it. The party symbol was conspicuous by its absence on the yatra's posters, which instead displayed a picture of Mr. Pilot with a clenched fist and the photos of Mahatma Gandhi, Jawaharlal Nehru, Indira Gandhi, Sonia Gandhi, B.R. Ambedkar and Bhagat Singh.
Pradesh Congress Committee president Govind Singh Dotasra told reporters that a yatra could be termed that of the party only when the All India Congress Committee or the State unit gave their approval. "This is not a Congress organisation yatra… The high command will take a decision [on it]," he said.
While All India Congress Committee (AICC) didn't comment, AICC in-charge for Rajasthan Sukhjinder Singh Randhawa has convened a meeting of some office-bearers, including Mr. Dotasara, on Friday in Delhi to discuss the issue.  
At a function in Jaipur, Chief Minister Ashok Gehlot made a veiled attack on his former deputy, saying that those who indulged in factionalism by raising thari-mhari (yours and mine) issues could never be successful or loyal to the party. "Loyalty is very important. I have always tried to take everyone along," he added.
Ajmer's significance
Party workers and office-bearers of the Ajmer District Congress Committee welcomed Mr. Pilot when he reached Ajmer by train on Thursday morning. Former Minister Rajendra Chaudhary and local leader Mahendra Singh Ralawata were also present. As the yatra set off on the highway leading to Jaipur, the participants carried the national tricolour and raised slogans supporting Mr. Pilot.
The Tonk MLA selected Ajmer as the starting point for his 125-km-long yatra, as the Rajasthan Public Service Commission (RPSC) and the Rajasthan Board of Secondary Education are headquartered in the city. Ajmer is also the Lok Sabha constituency from where Mr. Pilot was elected in 2009.
'Awaiting effective action'
Mr. Pilot asked why a bulldozer was not run over the property of an RPSC member arrested recently for a paper leak in a government recruitment exam, when the same action was taken against another accused. He said that his march was not against anyone, but was meant to raise issues crucial for the State's youths.
"When I questioned about paper leaks, it was stated that no leader or officer was involved in it. But then for the first time, an RPSC member was arrested. This is not sufficient, as the mastermind is yet to be caught," Mr. Pilot said. Referring to the scorching heat, he asked his supporters to "swim across the river of fire".
The former Deputy CM once again raised the issue of inaction by the State government on the alleged corruption cases of the previous BJP regime headed by Vasundhara Raje, noting that they had been exposed by the Congress when it was the Opposition party in the State. "Our workers brought the Congress to power by shedding blood and sweat, but we are still waiting for an effective action," he said.
Mr. Pilot had staged a day-long fast in Jaipur on April 11 with a demand for action in the corruption cases. This yatra has started just days after Mr. Gehlot claimed that he had survived Mr. Pilot's rebellion because Ms. Raje and two other BJP functionaries had refused to support a conspiracy to topple his elected government through money power.