Auto
MG Motor's big India plans: Rs 5,000 crore investment, three lakh cars per annum and more – Times of India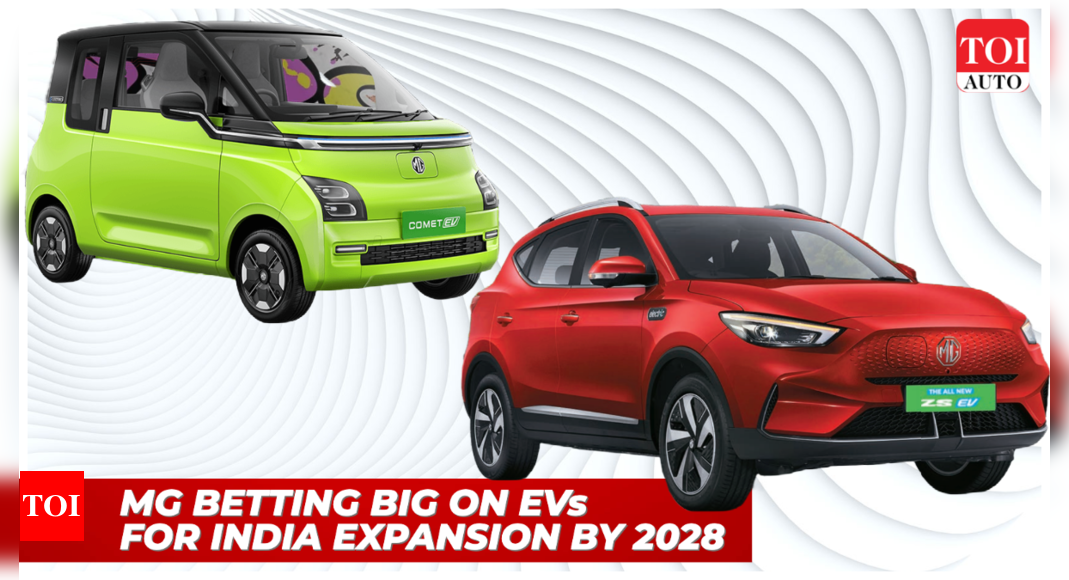 MG Motor India has announced big plans for the coming 5 years, as the automaker moves towards localising its business operations and indegenising its products and technologies. As part of its 2028 strategy, MG Motor India will be making investments worth Rs 5,000 crore in the country. It will develop a new manufacturing plant in Gujarat that will expand its annual production capacity to three lakh units and expand MG's workforce in India to 20,000 workers. The automaker will also explore EV cell manufacturing and hydrogen fuel-cell technology opportunities via a series of joint ventures or third-party manufacturing. Overall, MG Motor India will dilute its shareholdings to a point where the majority shareholders are Indians, in the next two to four years.
Return of Skoda Superb soon: New-gen Superb to be made in India soon after launch | TOI Auto
However, the centrepiece of MG's India expansion is increasing its EV portfolio by 2028. The company has announced that it will launch four to five new all-electric models in the country in the next five years. The new Gujarat plant will also feature a battery assembling unit to facilitate the production of EVs and MG is aiming at achieving 65 to 75 percent of its revenue from its EV portfolio in the future.
Speaking on the strategy, Rajeev Chaba, the CEO Emeritus of MG Motor India, further underscored the India roadmap and said, "MG India's unwavering dedication to India is deeply ingrained in our ethos. As we pave the way for our next phase of sustainable growth, we have outlined a clear roadmap and vision for 2028. Our growth strategy is centred around strengthening localization, aligning more closely with the government's 'Make in India' initiative while innovatively augmenting our promise consistently, and diligently meeting the evolving needs of the market."
Riding on a race track no longer costs a bomb | TOI Auto
The automaker has further announced that in the next five years, it intends to collaborate with 50 institutes to train 1 lakh students in new technologies such as electric cars, connected cars and ADAS systems. This will be done in order to prepare a trained and skilled workforce to contribute to the next generation of automobile manufacturing.
function loadGtagEvents(isGoogleCampaignActive) { if (!isGoogleCampaignActive) { return; } var id = document.getElementById('toi-plus-google-campaign'); if (id) { return; } (function(f, b, e, v, n, t, s) { t = b.createElement(e); t.async = !0; t.defer = !0; t.src = v; t.id = 'toi-plus-google-campaign'; s = b.getElementsByTagName(e)[0]; s.parentNode.insertBefore(t, s); })(f, b, e, ' n, t, s); };
window.TimesApps = window.TimesApps || {}; var TimesApps = window.TimesApps; TimesApps.toiPlusEvents = function(config) { var isConfigAvailable = "toiplus_site_settings" in f && "isFBCampaignActive" in f.toiplus_site_settings && "isGoogleCampaignActive" in f.toiplus_site_settings; var isPrimeUser = window.isPrime; if (isConfigAvailable && !isPrimeUser) { loadGtagEvents(f.toiplus_site_settings.isGoogleCampaignActive); loadFBEvents(f.toiplus_site_settings.isFBCampaignActive); } else { var JarvisUrl=" window.getFromClient(JarvisUrl, function(config){ if (config) { loadGtagEvents(config?.isGoogleCampaignActive); loadFBEvents(config?.isFBCampaignActive); } }) } }; })( window, document, 'script', );



Source link