Trending
Nitish Kumar calls on Naveen Patnaik; Odisha CM denies any alliance talks – Times of India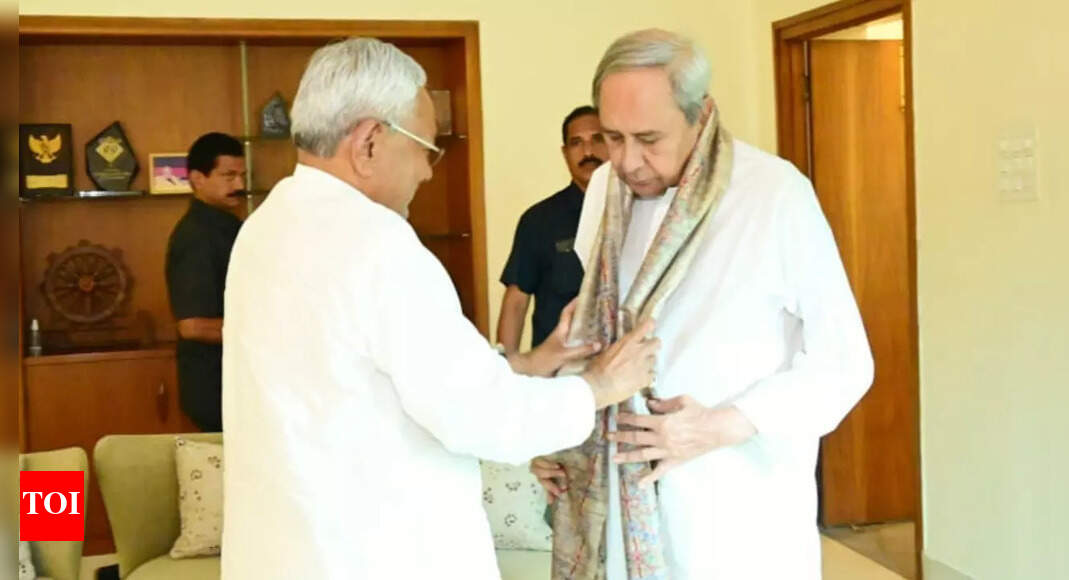 BHUBANESWAR/PATNA: Bihar CM Nitish Kumar met his Odisha counterpart Naveen Patnaik in Bhubaneswar on Tuesday amid swirling speculation that the JD(U) stalwart was reaching out to BJD as part of his goal of uniting non-BJP parties before the 2024 Lok Sabha elections.
Naveen said no discussion on forming any alliance was held at the lunch meeting in his home, Naveen Niwas, while Nitish also avoided direct comments on whether they discussed politics.
But JD(U) tweeted after their meeting: "As the frontrunner of the opposition unity, CM Nitish Kumar rushed to Odisha to meet CM Naveen Patnaik. He is trying to unite the opposition parties without nursing any political ambition."
The Bihar CM is scheduled to visit Mumbai on May 11 to meet former Maharashtra CM Uddhav Thackeray and NCP chief Sharad Pawar.
Nitish has gone on an overdrive to bring the scattered non-BJP forces on a single platform right since he met Congress president Mallikarjun Kharge and party member Rahul Gandhi, Delhi CM Arwind Kejriwal, Bengal CM Banerjee and former UP CM and Samajwadi Party chief Akhilesh Yadav. Both Naveen and Nitish highlighted their old friendship. Naveen, whose stated position is equidistant from BJP and Congress, said: "Ours is an old friendship. We have also been colleagues, many years ago. No discussions were held about any alliances today."
For his part, Nitish said: "Don't speculate over political issues. Our relationship is so deep, there is no need to think about politics. Our mutual understanding is very good, don't compare it with others."
Naveen said they had detailed discussions for land in Puri to be given to the Bihar government to build a Bihar Bhawan for pilgrims. Nitish reaffirmed the Odisha CM's statement, saying "so many tourists from Bihar visit Puri".
Stating that his friendship dates back to Naveen's father Biju Patnaik's days, the Bihar CM said he used to visit Bhubaneswar frequently. "I could not come, except for a meeting earlier, because of the coronavirus. I wished to meet him," he said. On whether he has extended any invite to Naveen to attend the opposition parties' meeting to be held later this month, probably in Patna, Nitish said: "You will get to know when it happens."
Nitish was accompanied by his party chief Rajiv Ranjan, aka Lalan Singh, and cabinet colleague Sanjay Kumar Jha.
While Nitish appeared happy, Patnaik didn't show any emotions in photographs posted by his official Twitter handle about the meeting.
Jayant Mohapatra, a retired professor of political science, said it makes sense for Naveen, who has no ambition for national politics, to not side with any new political formation at this juncture and wait till the 2024 outcome. "When West Bengal CM Mamata Banerjee met Naveen, he had said they discussed land for a West Bengal Bhawan in Puri," he said.
"There is a realisation in the opposition camp to come together, but the problem is who will take credit for all that (uniting the opposition)," Bihar political analyst professor DM Diwakar said.
NCP chief Sharad Pawar partly answered the question while announcing Monday that he will meet Nitish in Mumbai. "Our outlook is that an alternative (to the BJP government) is needed in the country. Those who wish to contribute to it, be it Nitish or Mamata, in my view we all need to work together for the same," he said.