Trending
'People Taunted Me a Lot… Tune Sabka Muh Band Kar Diya': Dhruv Jurel Recalls Emotional Chat With "Proud" Father | Exclusive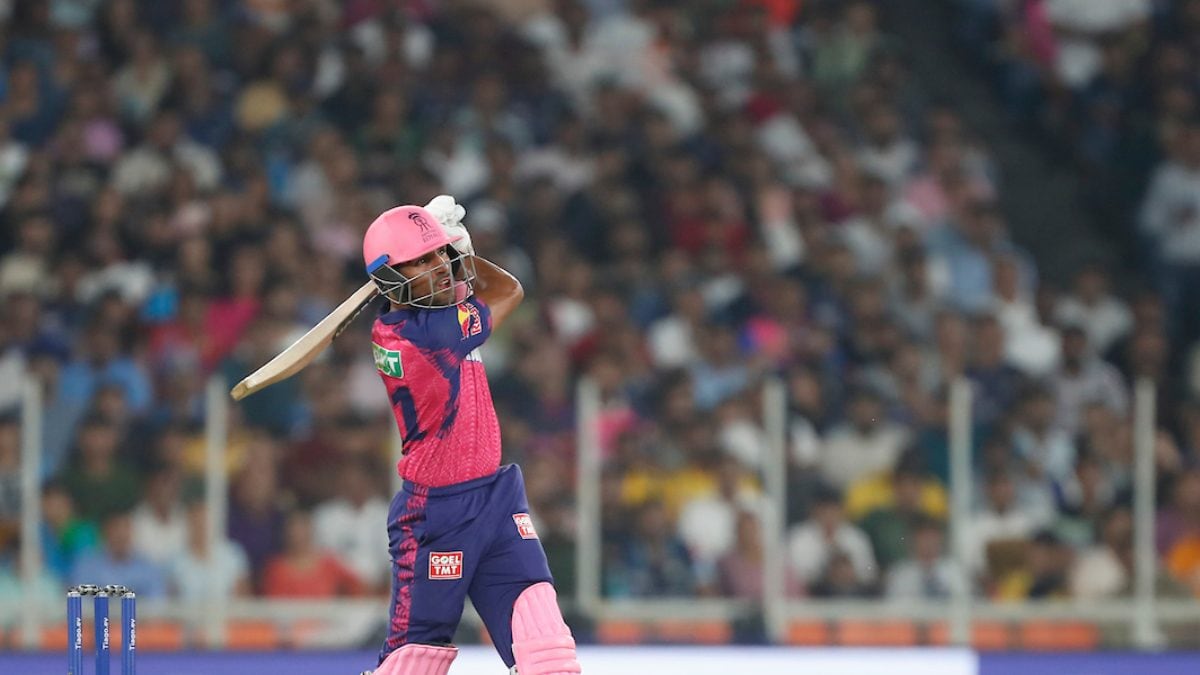 It was April 27 and Rajasthan Royals were set to lock horns with Chennai Super Kings in Jaipur. Big game, big crowd but it was a special game for young RR wicketkeeper-batter Dhruv Jurel who had his family in the stands. The right-hander smashed a 15-ball 34 in the hosts' convincing 32-run win and relived the initial days in an emotional chat with his father Nem Singh Jurel, a Kargil war veteran.
"My parents came for our second match in Jaipur and I went to meet them after the match. They were very emotional and my father was saying, 'aaj tune mera jeevan safal kar diya'. I told my father that it's just the start but he said I know you will do it but today is very important for me. 'Logo ne bahut taunt maare hai mereko. Kya bacche ki life barbaad kar raha hai, usko pada likha. Tune sabke muh band karwa diye aaj. Bahut accha feel ho raha hai' (People taunted me a lot that I am spoiling your life by not forcing you to study but you shut everyone up), my father said to me," says Dhruv in an exclusive interaction with News18 CricketNext.
Coming from a lower-middle-class family, Dhruv has seen his father's struggle during his early cricketing days and credits the entire family for making it this far in the game.
ALSO READ| IPL 2023 Playoff Qualification Scenarios Explained: CSK Solidify Hopes of Top-two Finish; DC All But Out
"My parents feel very proud that I, coming from a lower-middle-class family, am playing here. We have struggled a lot because cricket is not like a normal game. Even during my younger days, we couldn't afford but my father struggled a lot to support my journey. Now it feels good that there are sponsors, we get bats and by god's grace everything we struggled for is here now. I am here because of the support of my parents and my elder sister," says an emotional Dhruv.
The finishing role
The 22-year-old, who has led India U-19 in the Asia Cup and also featured in U-19 World Cup, was part of the RR camp in 2022 too but didn't get to play a game. He was picked up by the management again and waited for the opportunity to contribute for the team. In a packed batting line-up, Dhruv was aware that opportunity will come lower down the order and was "prepared to make most of it".
"I was prepared beforehand to bat in this slot. I knew I will get this slot and wanted to prepare to perform for the team. I used to practice keeping that in mind. When it comes to batting order, I am comfortable batting anywhere. I just want to play and contribute something for my team. I was just waiting for the opportunity, no matter which number it came at. And then it was just making most of it and then make the team win," says Dhruv.
ALSO READ| 'Not Seen Such Good Yorkers During my CSK Days': Raina Impressed with Tushar Deshpande's Rise, Gives Full Credit to Bravo
For a batter who has played in the top order for most of his life, it was hours in the nets during the off-season which helped him prepare for the finisher's role.
"Yes, I have worked very hard in the off-season. I used to bat 5-6 hours every day during the off-season and Zubin (Bharucha) sir has worked a lot on me. And I think that practice, the homework I did has helped me a lot this season. I am not getting the feeling that I am doing anything new," says Dhruv.
'Just remain positive'
Finishing is a high-risk, high-reward role and even the best in the business have struggled to dominate it. Aware of the challenge, Dhruv focuses on remaining positive.
"There is pressure but personally I don't look at that pressure. I focus on the 'what would happen when I connect'. When you are batting lower down the order, you need to have a positive mindset. It's a thankless position and you don't know what the bowler is going to bowl, how the wicket will behave. You have to go and start hitting from ball one because the team needs that. I just remain positive and always have that feeling that I will go and give my 100%," says Dhruv.
In the current scenario, the bowlers too have become much smarter and are trying to remain one step ahead of the batter with their variations towards the back end of the innings. The UP batter explored shots he can play against the various variations during his off-season preparations and played enough matches to test them out before the IPL.
"This is what I focused on during the off-season. I played a lot of matches and focused on practicing a lot of particular shots. The kind of options I can explore against yorkers, slower ones. A lot of hard work has gone into that," says Dhruv.
Dhruv made an instant impact in the IPL with his assault against the Punjab Kings where he fired a 15-ball 32 and nearly pushed his side over the line with a breathtaking stand with Shimron Hetmyer.
"The best thing was that I didn't feel any pressure. Our management never put any pressure on me. They just told me that 'we trust you and just go out there and play'. There was no sense of insecurity in me. I was well prepared and was reacting to the ball. Just watch the ball and react. Simple. I was not even looking at the scoreboard. I was just focused on watching the ball and playing. Unfortunately, we missed but it was a good experience," says Dhruv on that effort vs PBKS.
The advice from Dhoni and Kohli
It has now become routine for young cricketers to talk to star players after every IPL game and seek advice, take tips and try to get a sneak peek into their mindset. For Dhruv, it was a dream come true to talk to his idol MS Dhoni after one of the games and he still remembers the conversations with him and Virat Kohli.
ALSO READ| 'Bas Mehnat Karni Hai, Waha Tak Pohchna Hai': RR Youngster on 9th Cloud After Meeting Idol MS Dhoni – WATCH
"The only thing I ask is about their consistency. How they maintain so much consistency. I try to ask about their mindset because they keep doing it over and over again and continue to deliver. I just look for that one advice which can help my cricket. Just keep believing, is what the players have told me to do. They have insisted to not go inside with any shadow of doubt. The only difference between a normal and good cricketer is mindset. Both Dhoni sir and Virat bhaiya told me this," recalls Dhruv.
For a youngster like Dhruv, it has been a "special journey" to spend time with big players and see how they conduct themselves both on and off the field. He feels it's the mindset which separates the normal and good players and he wants to keep learning.
"It has been very special. The players we have been seeing on TV, we now share the dressing room with them. This gives an opportunity to know the star players well and see how they are, how they prepare for the game. And most importantly how their mindset is after doing well or badly in a game. More or less everyone has the skillset at this level, it's the mindset which takes one ahead. I keep learning about that and how I can adapt," says Dhruv.
With Trent Boult, Yuzvendra Chahal and R Ashwin as bowling options, RR have a lot of quality in the nets. Dhruv asserts that preparations are so good that no player faces any major problem in the match.
ALSO READ| IPL 2023: Kolkata Knight Riders Host Rajasthan Royals Aiming to Break Into Top-four
"It feels very good when you play such experienced bowlers and players in the nets. Homework is good so there is no major problem in the match because we are already facing quality bowlers in the nets," says Dhruv.
After mixed outings in the second half of the tournament, RR now need to do well in their last three games to make the playoffs. The Sanju Samson-led unit has lost five out of their last six encounters and the latest defeat, against Sunrisers Hyderabad, where Sandeep Sharma bowled a no-ball on the last delivery and then Abdul Samad sealed the result with a boundary off the free-hit.
"I think this is the beauty of the game and this is why IPL is one of the best leagues in the world. All credit goes to the batters for that. They batted well and it wasn't our day, we couldn't execute. Three games are left, we will play well and win. Khatam baat (laughs)," says Dhruv.