Politics
'Rahulyaan Hasn't Been Able to be Launched…': Rajnath Singh Takes Dig at Congress Leader | WATCH – News18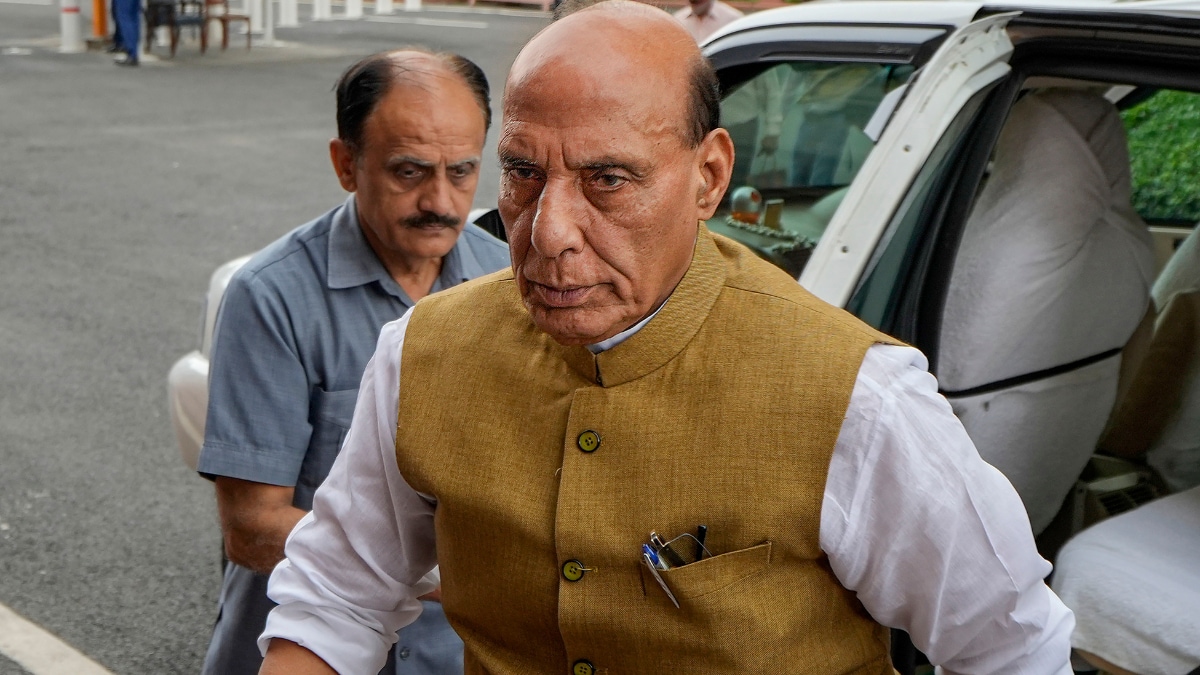 Last Updated: September 04, 2023, 18:21 IST
Defence Minister Rajnath Singh. (PTI Photo)
Singh also praised the resilience of Indian scientists for the success of Indian Space Research Organisation's (ISRO) historic mission and said that Prime Minister Narendra Modi always had their back
Union Defence Minister Rajnath Singh on Monday mocked Congress leader Rahul Gandhi's political career by saying that while India has launched Chandrayaan, Mangalyaan and even Suryayaan, the 'Rahulyaan' hasn't been able to take off in the last 2 decades.
Addressing a public meeting in Rajasthan's Jaisalmer, Singh said, "In a country where successful launching and landing of Mangalyaan and Chandrayaan is taking place, Congress' "Rahulyaan" has neither been able to launch or land since the last 20 years."
#WATCH | "…Mangalyaan, Chandrayaan & Suryayaan were successfully launched, but 'Rahul Yaan' hasn't been able to be launched for the last twenty years," says Defence Minister Rajnath Singh in Jaisalmer, Rajasthan pic.twitter.com/thWo1LZ22D— ANI (@ANI) September 4, 2023
Singh also praised the resilience of Indian scientists for the success of Indian Space Research Organisation's (ISRO) historic mission and said that Prime Minister Narendra Modi always had their back even when Chandrayaan-2 failed to land safely on moon.
Rajnath was addressing a public meeting at Ramdevra on the launch of the third round of the BJP's Parivartan Yatra in Rajasthan.
Singh further targeted the Opposition parties of playing politics even during the time of Chandrayaan-2.
"Even this time the landing of Chandrayaan took place, even then the opposition tried to raise questions, but when it saw the mood of the country, it remained silent," he added.
Singh also hit out at the opposition over DMK leader Udhayanidhi Stalin's comments on Sanatan Dharma, wondering why Congress leaders Sonia Gandhi, Rahul Gandhi and Ashok Gehlot are "silent" on the issue.
"I want to ask (Rajasthan Chief Minister) Ashok Gehlot why he does not speak, why Sonia Gandhi, Rahul Gandhi, (Congress president Mallikarjun) Kharge do not say what is their thinking on Sanatan Dharma." He said the Dravida Munnetra Kazhagam (DMK), a part of the INDIA bloc, has hurt Sanatan Dharma and the Congress leaders are "silent" on the issue.
"INDIA bloc members should apologise for the insult to Sanatan Dharma or the country won't forgive them," he said. The DMK leader should be asked for an explanation over his comments, Singh said and added that "Sanatan Dharma considers the world a family and gives the message of 'Vasudhaiva Kutumbakam' (the world is one family)".