Sports
Rohit Sharma says No room for complacency in Super 4s | Cricket News – Times of India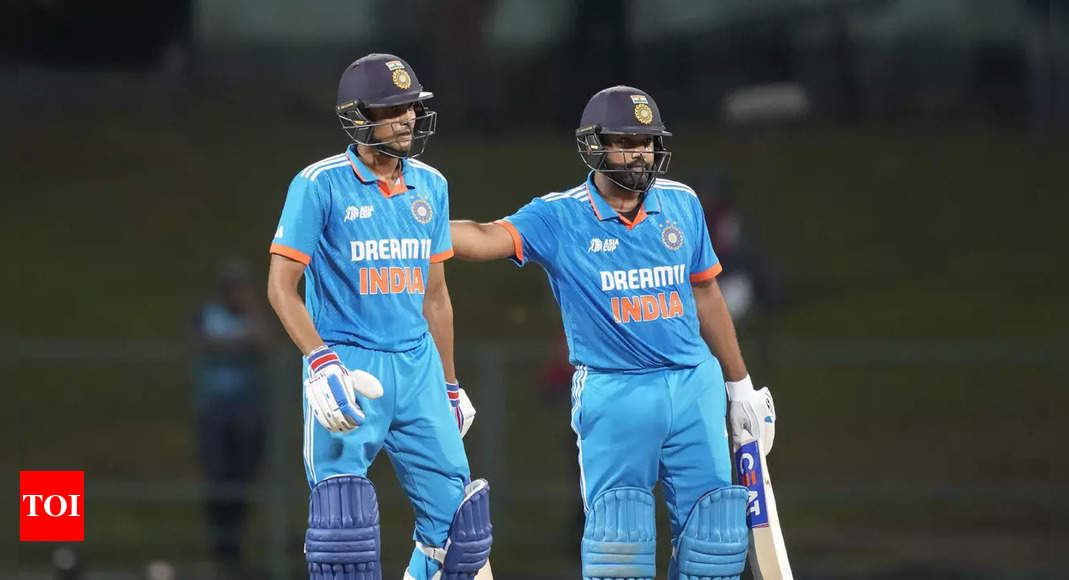 India's captain Rohit Sharma openly acknowledged that his team has yet to showcase its best performance in the ongoing Asia Cup and emphasized the necessity for improvement as they entered the 'Super 4' stage of the competition with a win over Nepal on Monday.
India's opening game against rivals Pakistan was abandoned due to inclement weather. Against Nepal, India secured a comprehensive 10-wicket victory (DLS method) in another rain-affected match, ensuring their place in the 'Super 4' stage.
"We haven't been at our best, but a few guys are coming out after months out of the game.Once we move ahead in the Super 4s, there's no room for complacency," Rohit said at the post-match presentation."First game (vs Pakistan), under pressure, Hardik (Pandya) and Ishan (Kishan) got us into a good position. Today our bowling was okay, but fielding was below-par."
Set to chase a revised target of 145 in 23 overs, skipper Rohit (74 not out) and his opening parner Shubman Gill (67 not out) took the team to a comfortable victory.
"To start with, there were some nerves, but once I got my eye in, I wanted to cash in and get my team home."
Regarding the flick-sweep shot that resulted in a six, Rohit said, "My intention was simply to chip it over the short fine leg; there was no deliberate effort to clear deep backward square leg. However, the modern cricket bats are incredibly effective."
On India's World Cup squad to be announced on Tuesday, Rohit said, "As we arrived here, we already had a clear idea of what our World Cup squad of 15 would resemble, with perhaps just one or two positions still up for consideration."
"We can't really look too much into these two (Asia Cup) games, one was washed out, but luckily we got to bat in the first game and bowl in this one."
Gill expressed satisfaction with his knock after the disappointment against Pakistan.
"Quite disappointed with the way I got out day before yesterday. Important that I finished it off tonight with Rohit bhai, and we did it," he said.
"He (Rohit) likes to take the bowlers on aerial, and I like to hit more boundaries than sixes, so we complement each other."
On Nepal's bowling, Gill said, "They bowled very well with the new ball, they challenged us. We knew once the ball gets wet, it'll get easier for the batsmen. That's what the talk was in the dressing room."
Nepal reached a competitive total but their skipper Rohit Paudel said they were 30-40 runs short.
"Our openers did a very good job for us. In the middle order, we could have done better. We were maybe 30-40 short. If we had done better in that phase, we could have got 260-270," Paudel said.
"In the last 4-5 months our lower order has done a great job, we are very proud of them. I think in these conditions it was really hard because of the dew, but our bowlers did really well."
(With agency inputs)
function loadGtagEvents(isGoogleCampaignActive) { if (!isGoogleCampaignActive) { return; } var id = document.getElementById('toi-plus-google-campaign'); if (id) { return; } (function(f, b, e, v, n, t, s) { t = b.createElement(e); t.async = !0; t.defer = !0; t.src = v; t.id = 'toi-plus-google-campaign'; s = b.getElementsByTagName(e)[0]; s.parentNode.insertBefore(t, s); })(f, b, e, ' n, t, s); };
window.TimesApps = window.TimesApps || {}; var TimesApps = window.TimesApps; TimesApps.toiPlusEvents = function(config) { var isConfigAvailable = "toiplus_site_settings" in f && "isFBCampaignActive" in f.toiplus_site_settings && "isGoogleCampaignActive" in f.toiplus_site_settings; var isPrimeUser = window.isPrime; if (isConfigAvailable && !isPrimeUser) { loadGtagEvents(f.toiplus_site_settings.isGoogleCampaignActive); loadFBEvents(f.toiplus_site_settings.isFBCampaignActive); } else { var JarvisUrl=" window.getFromClient(JarvisUrl, function(config){ if (config) { loadGtagEvents(config?.isGoogleCampaignActive); loadFBEvents(config?.isFBCampaignActive); } }) } }; })( window, document, 'script', );



Source link