Astrology
Today Horoscope (12 May) | Career Calling: 3 Zodiac Signs Set to Soar High in New Opportunities!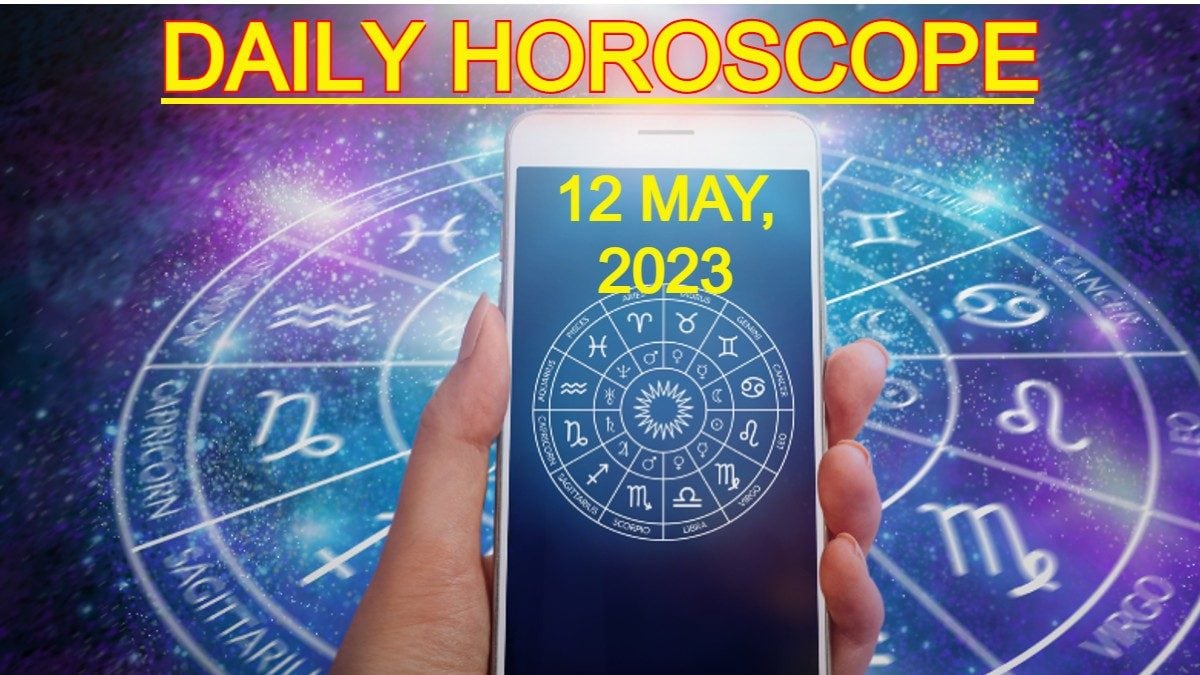 HOROSCOPE TODAY, 12 MAY, 2023: During the oracle reading, the cards revealed a mystical energy surrounding the situation. The guidance given emphasized the importance of safeguarding oneself from negative influences and focusing on constructive actions. The reading suggests that through patience and persistence, success is attainable. Additionally, the cards indicated that a long-standing prayer has been answered and that positive change is on the horizon. It's important to remain open to receiving blessings and to trust in the divine timing of the universe. By following this guidance, the outcome of the situation will be one of growth and fulfillment.
ARIES: MARCH 21-APRIL 19
A new meeting might leave you blown away. Don't dismiss it as a coincidence, it may be destiny. Follow your heart and see where it leads. Your primary focus right now should be on gaining guidance from mentors. Don't be afraid to be a first mover and take advantage of new opportunities.
Early lessons about finances have shaped your money mindset. Embrace new updates and prioritize cash flow. Be mindful of your spending habits. Clarity comes from being mindful of your body and the impact of a mechanical life. Prioritize self-care and create a routine that works for you.
LUCKY SIGN: A paper boat
LUCKY COLOUR: Magenta
LUCKY NUMBER: 24
TAURUS: APRIL 20 – MAY 20
Your prayer for love might be answered soon. Your heart's desire for a serene and fulfilling relationship is within reach. Trust the journey. Success in writing is on the horizon. Prepare for dramatics training, if keen. Your career might be more meaningful than ever before. The early bird catches the worm. Keep an eye out for new openings and miscellaneous opportunities.
Your financial situation will improve. Schedule a routine consultation and check-up. Your health is a priority, and taking care of yourself must bring peace of mind.
LUCKY SIGN: A carnation
LUCKY COLOUR: Purple
LUCKY NUMBER: 5
GEMINI: MAY 21- JUNE 21
The universe is conspiring to bring you the love you desire. Be open to new possibilities. Trust that your heart will guide you to a fulfilling relationship. Your career is taking off, and success is within your reach. Be bold in your pursuits and don't be afraid to take risks. Your hard work and dedication may now pay off. Abundance is coming your way, but it's important to be mindful of your spending habits.
Keep a watchful eye on your finances and take advantage of new opportunities when they arise. With smart planning and disciplined spending, you might achieve financial stability and prosperity. Prioritize your health and well-being by taking proactive steps to address any concerns. Make self-care a daily habit and listen to your body's needs.
LUCKY SIGN: A brown bag
LUCKY COLOUR: Neon pink
LUCKY NUMBER: 6
CANCER: JUNE 22- JULY 22
There is a significant choice is to be made in your love life. It might indicate a new relationship, the decision to commit, or a rekindling of an old flame. You are required to trust your intuition and inner guidance to make the right decision. There are changes are coming your way. This is a sign of success and new opportunities, but it also reminds you to be adaptable and flexible. There might be new beginnings and financial opportunities.
You may receive a new job opportunity, or a new source of income. Take advantage of these opportunities and be mindful of your spending habits. Take time to rest, nourish your body, and connect with nature. It's time to explore creative and expressive outlets that bring you joy and happiness.
LUCKY SIGN: A ceramic vase
LUCKY COLOUR: Powder Blue
LUCKY NUMBER: 16
LEO: JULY 23 – AUGUST 22
A new romantic opportunity is on the horizon. This could be a new love interest or a deeper connection with someone you're already with. You are urged to be open to this new energy. This may also be the time of change and transformation in your career. You may be feeling restless and eager for something new. Trust in your intuition and follow your heart.
There might be an opportunity for financial gain but caution you to be mindful of your spending habits. Stay grounded in your financial goals and be mindful of any impulsive purchases. Take care of yourself by getting regular check-ups and focusing on self-care. Pay attention to your physical, mental, and emotional needs.
LUCKY SIGN: An engine
LUCKY COLOUR: Charcoal grey
LUCKY NUMBER: 12
VIRGO: AUGUST 23-SEPTEMBER 22
You may find yourself attracted to someone new who has the potential to bring joy and happiness into your life. You may reveal a need for communication and honesty in your current relationship. You may stay cautioned and attention to details at work. Don't be too hasty in making decisions, and make sure to weigh all options carefully.
You may see an increase in your income or be presented with new financial opportunities. However be careful of budgeting and stay mindful about your spending habits. You may be feeling energized and motivated to take on new challenges. Make sure to take care of yourself by getting regular check-ups.
LUCKY SIGN: A white rose
LUCKY COLOUR: Yellow
LUCKY NUMBER: 11
LIBRA: SEPTEMBER 23- OCTOBER 23
There is likely to be a mix of positive and negative energies in your love life. While there is potential for new love, be cautious of conflicts that may arise. Focus on communication and being honest with yourself and your partner. There might be a need for patience and perseverance in your career. There may be obstacles in your path but stay focused on your goals and trust in your abilities. Your hard work will pay off in the end.
Be mindful of your spending habits and avoid any unnecessary expenses. Focus on budgeting and saving for the future. Make time for exercise, relaxation, and self-reflection. Be mindful of any signs of stress or anxiety and take steps to address them. Consider taking a trip or embarking on a new journey.
LUCKY SIGN – a milestone
LUCKY COLOUR: Beige
LUCKY NUMBER: 10
SCORPIO: OCTOBER 24 – NOVEMBER 21
There may be some ups and downs in your love life. While you may encounter some challenges, the overall message is one of positivity and hope. You may face some obstacles along the way at workplace. Stay focused on your goals and be persistent in your efforts. Do remain mindful of your spending habits.
Avoid impulsive purchases and stay disciplined in your approach to money. It's time for exciting new adventures and experiences through travel. Keep an open mind and embrace the journey, but also stay grounded in your approach to travel.
LUCKY SIGN: A squirrel
LUCKY COLOUR: Saffron Orange
LUCKY NUMBER: 28
SAGITTARIUS: NOVEMBER 22 – DECEMBER 21
The oracle indicates a time of passion and romance. Positive energy surrounds your love life, leading to a deeper connection with your partner or a new love interest. However, be cautious of potential conflicts or misunderstandings. Opportunities for growth and development are on the horizon at work but beware of envy or competition from others. Positive energy surrounds your financial situation, leading to opportunities for growth and new ventures. However, be mindful of overspending and stay grounded in your financial goals.
It's a time of physical and emotional strength. You possess the power to heal and overcome any challenges. Focus on self-care and maintaining a healthy balance between your physical and emotional needs. Positive energy surrounds travel, leading to new experiences and personal growth.
LUCKY SIGN: An aquarium
LUCKY COLOUR: Baby Pink
LUCKY NUMBER: 16
CAPRICORN: DECEMBER 22 – JANUARY 19
The oracle indicates a positive shift in your love life, possibly the beginning of a new relationship. However, be mindful of any miscommunications or misunderstandings that may arise. A successful and prosperous time in your career. You may receive recognition or an unexpected opportunity. Simply be careful not to become complacent or arrogant, as this could lead to negative consequences in the long run.
A potential financial gain or positive financial situation is indicated. However stay cautious of any impulsive spending or decisions that could lead to a negative outcome. You may see improvements in your physical, mental, and emotional health. You may discover new places of travel or have a life-changing experience. Take necessary precautions to ensure your safety and well-being.
LUCKY SIGN: A copper vessel
LUCKY COLOUR: Blue
LUCKY NUMBER: 8
AQUARIUS: JANUARY 20- FEBRUARY 18
The oracle indicates a strong connection and deep commitment in a relationship. A beautiful and harmonious union is indicated. However, there may be a difficult choice to make or a challenge to overcome in the relationship. A shift or change in your career is indicated. This change can bring new opportunities and growth.
You are on the right path towards optimal health and well-being, but you may need to find ways to balance different aspects of your life to maintain good health. A randomly planned trip may lead to personal growth and discovery. There may be unexpected delays along the way.
LUCKY SIGN: Lamp shade
LUCKY COLOUR: Silver
LUCKY NUMBER: 4
PISCES: FEBRUARY 19 – MARCH 20
The oracle suggest positive energy around love and relationships, with the possibility of emotional fulfilment. However, there may be some misunderstandings or conflicts that require honest communication. Career opportunities may arise, but you'll need to be mindful of possible setbacks or conflicts that may require patience and diplomacy to navigate.
Positive health changes and progress are possible with regular exercise, healthy eating, and self-care practices. Travel is on the horizon, with positive experiences and new adventures awaiting. but be flexible and prepared for any surprises that may arise. Remember to stay in the present and enjoy the journey.
LUCKY SIGN: A jewelry box
LUCKY COLOUR: Gold
LUCKY NUMBER: 7.