Sports
Virat Kohli Post a Video days after altercation with Gautam Gambhir | Cricket News – Times of India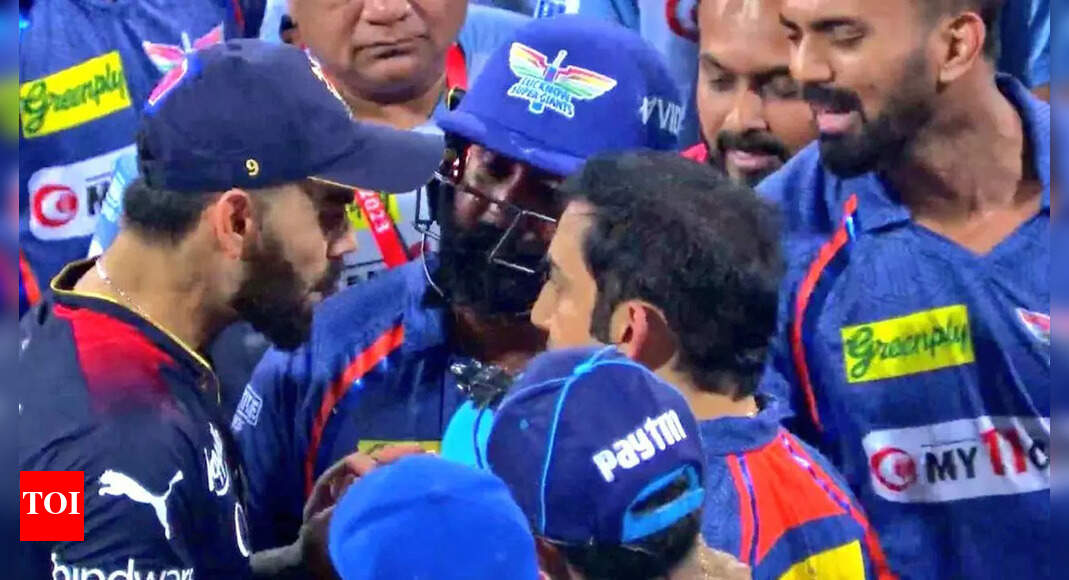 A story on Virat Kohli's Instagram account has gained a lot of attention, especially because it's indicative of the former India and Royal Challengers Bangalore captain's attempt to mend fences following his verbal altercation with Lucknow Super Giants' mentor Gautam Gambhir and their Afghan pacer Naveen-ul-Haq.
On Wednesday, Kohli shared a cryptic video on grudges featuring American stand-up comedian Kevin Hart.
"Grudges, anger, negativity…I don't have time for it. Because I'm living to do so many positive things. I can't stand in…past…and bathe in what was wrong," Hart says in the video.
Though Kohli did not make a mention of the incident with Gambhir with any caption, the video could be taken as his attempt to move on from the spat with Gambhir.
Kohli had a heated exchange with Naveen-ul-Haq and Kyle Mayers of LSG after RCB's match ended, with the Afghan pacer avoiding shaking hands with Kohli.
Gambhir then got involved and had verbal duel with Kohli, as several players, including LSG captain KL Rahul and veteran leg-spinner Amit Sharma, intervening to separate the two.
The IPL later imposed heavy fines on Kohli, Gambhir and Naveen for their behaviour.
(With agency inputs)
function loadGtagEvents(isGoogleCampaignActive) { if (!isGoogleCampaignActive) { return; } var id = document.getElementById('toi-plus-google-campaign'); if (id) { return; } (function(f, b, e, v, n, t, s) { t = b.createElement(e); t.async = !0; t.defer = !0; t.src = v; t.id = 'toi-plus-google-campaign'; s = b.getElementsByTagName(e)[0]; s.parentNode.insertBefore(t, s); })(f, b, e, ' n, t, s); };
window.TimesApps = window.TimesApps || {}; var TimesApps = window.TimesApps; TimesApps.toiPlusEvents = function(config) { var isConfigAvailable = "toiplus_site_settings" in f && "isFBCampaignActive" in f.toiplus_site_settings && "isGoogleCampaignActive" in f.toiplus_site_settings; var isPrimeUser = window.isPrime; if (isConfigAvailable && !isPrimeUser) { loadGtagEvents(f.toiplus_site_settings.isGoogleCampaignActive); loadFBEvents(f.toiplus_site_settings.isFBCampaignActive); } else { var JarvisUrl=" window.getFromClient(JarvisUrl, function(config){ if (config) { loadGtagEvents(config?.isGoogleCampaignActive); loadFBEvents(config?.isFBCampaignActive); } }) } }; })( window, document, 'script', );



Source link