Buzz
Warren Hastings' Kebab Recipe Fom His Personal Diary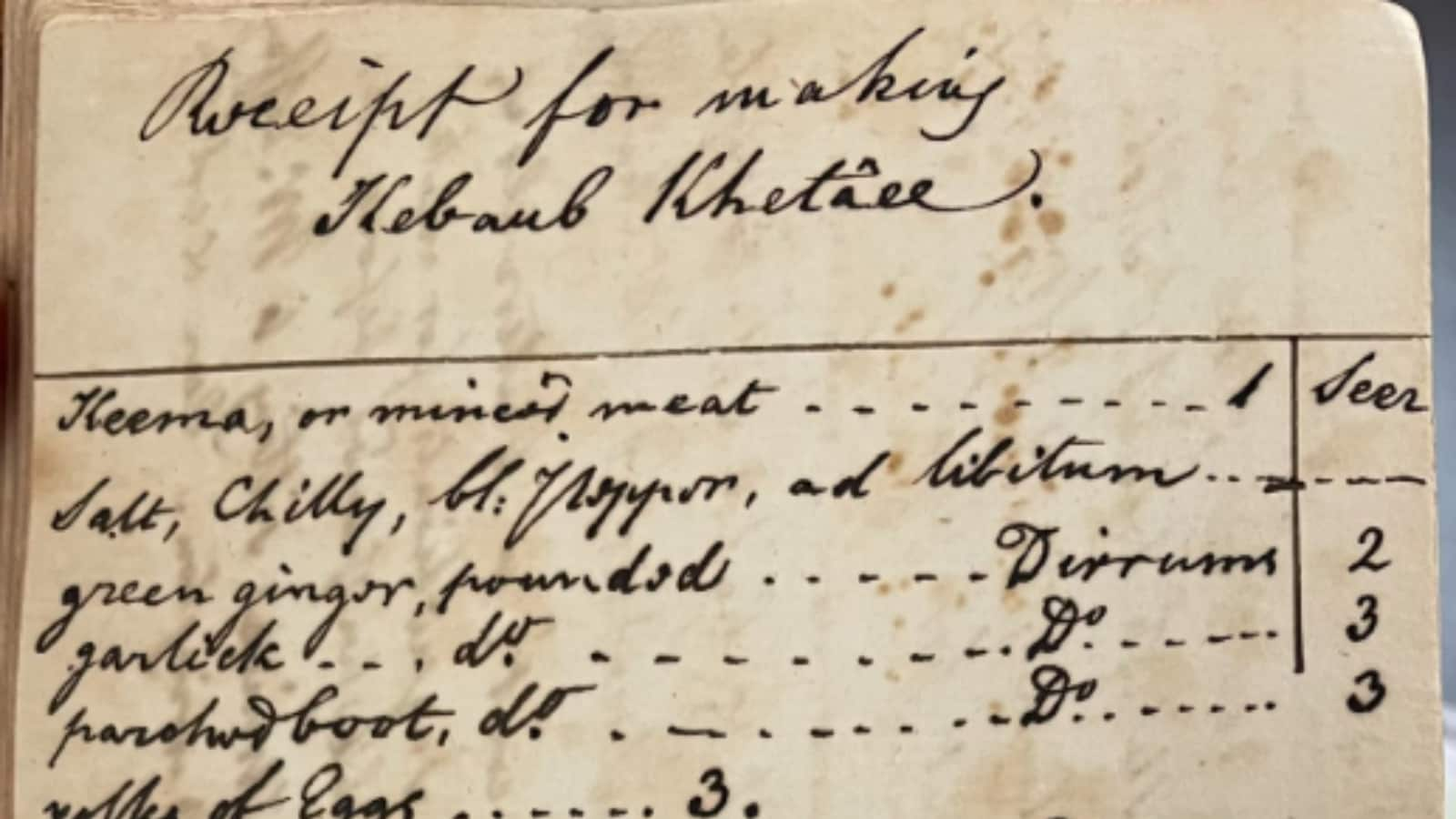 Last Updated: February 25, 2023, 10:14 IST
A page from the personal diary of Warren Hastings. (Image Credit : Twitter)
Warren Hastings served as the first governor-general of Bengal from 1772 to 1785.
An Indian writer has shared a glimpse of what she claims is the personal diary of Warren Hastings, the first governor-general of Bengal. The note was apparently written at the time when Hastings was levied with impeachment proceedings for alleged corruption charges in 1786. If the note is anything to go by, it only proves Hastings' love for authentic Indian food. The pages from his dairy don't chronicle his state of mind, instead, it's a list of ingredients and the required recipe to make Kebab.
The handwritten page lists several ingredients including salt, yolks of egg, keema, minced meat, fried onions, chilly, and cream among others. Just after summing up the ingredients Hastings also noted how to go about the procedure, "Mix well in 5 or 6 glasses of water boil in a saucepan till dry- grind it well on a stone…form it into cakes and fry them in butter, taking care if they do not stick to the pan," read the note.
The writer who shared the dairy page of Warren Hastings claimed the entry was made back in 1784. "Warren Hastings' kebab recipe. Even as charges for corruption were about to be framed against him, Hastings was enjoying Nawab Asaf's company at Lucknow in July 1784, learning how to make kebabs. British Library, Hastings' private diary," informed the writer.
The photograph that was shared just days ago became a big topic of discussion among Twitteratis. One user stated, "This is so historically cool. I am currently reading a book about the Irish founder of Hicky's Bengal Gazette and how he targeted Hastings for corruption and this recipe is dated in that same decade."
Another added, "Some of the tastiest kebabs in the world are still to be found in Lucknow."
One more joked, "Corrution, Vorruption toh chalta rahega, pehle Kebab kha leta hoon (Corruption will continue, but let me Kebab first)."
A user paid keen attention to the recipe, "Boot is chana dal! So parched boot is roasted chana. The mystery slowly unravels."
Another commented, "The beauty of India, conquerer investigated food first."
The tweet has amassed over lakh views on the micro-blogging site. Warren Hastings claimed the position of the first governor-general from 1772 till 1785. He is regarded for laying the foundation of the British Empire in India.
Read all the Latest Buzz News here